(If you are not a baseball fan, and perhaps even are a baseball fan, but not an Indians fan, you should probably just stop reading now.)
WE DID IT!!! 3-3 in players we traded making the playoffs.
Some final thoughts or things I wanted to mention.
Some of this information came from Jayson Starks Rumblings and Grumblings on
espn
.com, some of it came from the
DiaTribe
blog which is linked to up top on the right, and some of it is just my own good
ol
' research and observations.
First off, Greg
Maddux
had an outing on Saturday that I for one was mighty impressed by. He went 6 innings, and threw only 47 pitches to it. I hope you appreciate what a low number of pitches that is. He was helped by having three innings where he only threw 6 pitches. Another
interesting
thing about
Maddux
, he was the only Padre to have a stolen base in the month of July. Also worth noting I guess, in that game on Saturday, Omar
Vizquel
helped to turn his 1,700 career double play.
The White
Sox
became the first team to end the regular season beating three different teams on three straight days. Maybe my TV is just dark, but I liked their fans "black out" more than Georgia's,... maybe it is because it actually worked this time (though,
fyi
, i predicted a Alabama win)
Congratulations
to these guys I guess....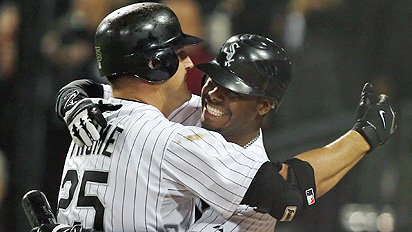 CC Sabathia lead the American League (along with 8 other guys including Cliff Lee) in Shutouts with two. He also lead the National League (along with teammate Ben Sheets) in Shutouts with three. I do not know the last time someone lead both leagues in such a category. His numbers for the year, between the two leagues, were 17-10 with a 2.70 ERA.
In case you didn't know, Sabathia and the rest of the Brew Crew's impressive performance on Sunday may have helped the Indians a little more. According to an article in the Plain Dealer from a few weeks ago, and never confirmed or denied by the Indians, the player to be named in the CC deal, which is supposedly the second most important part behind Matt Laporta, will be selected by the Indians. If the Brewers missed the playoffs, than they got to decide who we would get.

As I said the other night, perhaps the most disappointing thing about this season, is that the Indians only needed to win 89 games to be in the playoffs. They won 96 games last year, and they won 93 game sin 2005 and missed the playoffs. It would have been easier to swallow if the Twins or White Sox could have at least pretended to be a little dominant. But I was thinking, since the Indians won 81 games, that means they were just 8 wins short of missing October. Think about this.... in CC's first four games, the team went 1-3 as he gave up 5, 4, 9 and 9 runs in those starts. If we flip that, and he goes 3-1, that's 83 wins already. Now look at the 10 game losing streak, and lets just say we could have gone a conservative 2-8 during that. Now we are at 85 wins. And, we would be in a little better position, so let' say we don't trade CC. Paul Byrd turned it around in the second half, could we have not won 4 more games? It obviously doesn't matter now, but when you think about it, and how good we were in the second half, it is even more disappointing.
Speaking of how good we were in the second half.... After the All-Star break, the Indians led, not just the AL, but all of MLB in runs scored with 379. After assuming the closers role on August 8th, Jensen Lewis went 13-13 in save opportunities, good for third best in the big leagues, and had a better ERA and more saves in that than Jonathon Papelbon, Kerry Wood and JJ Putz. After the All-Star break, Shin-Soo Choo had the third best OPS in the AL. And you may think he didn't have as many at-bats, so what good is that, but he actually had more at bats than the two guys in front of him, Mark Teixera and Melvin Mora. And that Kelly Shoppach guy, he had the 8th highest OPS after the break, while also leading all catchers in the AL in home runs over the entire season.
Now, looking over the whole season, that Grady fellow trailed only Alex Rodriguez in the AL in a stat known as VORP. It stands for Value over Replacement Player, and according to wikipedia it "demonstrates how much a hitter contributes offensively or how much a pitcher contributes to his team in comparison to a fictitious "replacement player," who is an average fielder at his position and a below average hitter. A replacement player performs at "replacement level," which is the level of performance an average team can expect when trying to replace a player at minimal cost, also known as "freely available talent." So, that may be kind of confusing, but it is still important. Another interesting thing about this VORP stat, is that highest ranked AL Shortstop is Jhonny. Now you could argue that SS is not a hitters position, but than I would inform you even if Jhonny were moved to third base, he would come in second behind A-Rod at that position. Oh yeah, and that Choo fellow,... he came in 30th place, ahead of guys like David Ortiz, Michael Young and J.D. Drew.
Here are some in season quotes. I as going to include the Ralph Nader one you mentioned here, but I won't... (From Rumblings and Grumblings)
From the Joaquin Andujar of his era, Cubs pitcher Carlos Zambrano, after his GM, Jim Hendry, pulled off a July trade for Rich Harden.
"I have one word for Jim Hendry: Good job."
From Yankees first baseman Jason Giambi, on the late, great Yankee Stadium:
"It's a place where men become children -- and children never forget as men."
And thanks to the Chicago Tribune's Phil Rogers for passing along this quip from the White Sox's No. 1 pick, Gordon Beckham, on his first impression of the inimitable Ozzie Guillen:
"I hope to get up here and get yelled at sooner than later."
Here are two Ichrio quotes...
"All my teammates don't think what I'm wearing is good fashion. A lot of times, they can't believe what I'm wearing. But if you ask me, what they're wearing is a crime."
"Playing on this team and seeing what is happening around me, I feel that something is beginning to fall apart. But, if I was not in this situation, and I was objectively watching what just happened this week, I would probably be drinking a lot of beers and booing. Usually, I enjoy Japanese beer, but given the situation, if I was objectively watching the game, I wouldn't care if it was Japanese beer, American beer or beer from Papua New Guinea."
And finally, I have to imagine that in part to a spectacular catch made on the last day of the year in a game that didn't matter, the Indians should pick up at least two awards this year with Lee picking up the Cy and Grady winning another Gold Glove. Also, as I mentioned, Shin-Soo Choo won the AL player of the month for September (with Asdrubal being a finalist), but also in case you did not hear, Cliff Lee won AL Comeback Player of the Year. Also, Scott Lewis is one of three candidates for AL Rookie of the Month for September after going 4-0 with a 2.63 ERA. And also, the Indians fired, or released, or let go, Luis Issac today. Issac had been the bullpen coach since 1993, and been with the Indiains in some capacity since 1965. Wedge said he was not blaming him for the bullpen woes, and pretty much said he didn't do anything wrong, but I guess that is the first of what will hopefully be a few moves the Tribe make this offseason.
That reminds me, one other thought on Jensen Lewis.. I like him, and don't forget, he was the first person I said the Indians should try at closer when JoBlow was let go. I still think the Indians should try to sign a more established closer this off-season, but not freak out if they can't find anything. Worse case scenario if we do sign someone else, we will have at least two bonafide setup men with Perez and Lewis, and you never know if Bentancout can turn it around. My point is, I am not sure Lewis has "earned" or "deserves" to be the closer next year, but the front office has to be pleased with what they saw. Which brings me to one other point about the second half. With J.Lewis, Garko, Cabrera, Choo and Shoppach, just to name a few, the Indians have to be feeling a little better about next season than they did a few months ago, even before going into free agency and what not. I'm not saying they are all All Stars, but I think it gives the front office more flexibility in what they can do. (Speaking of AC, before being sent to Buffalo.. .184, 1 HR, 14 RBI's, after coming back... .320, 5 HRs, 33 RBIs.)
Ok, that's all for now. Go Rays. Go Angels. Go Brewers. Go Dodgers.
Oh yeah, click on this picture to check out these hotties in a picture I stumbled upon... (If nothing happens when you click it, go to properties, get the link, and check it out. It is desktop size and quality, so its a must see.)
That is (front row) Mrs.* Jason Michaels, Mrs.* Aaron Laffey and Mrs. Casey Blake. (second row) Mrs. Eric Wedge, Mrs. Dan Williams, Mrs. Jhonny Peralta, Mrs. CC Sabathia and Mrs. Cliff Lee.
The one's with "*"s were fiances at the time of the picture, so hopefully Mrs. Jason Michaels woke up and smelled the hair gel before going through with that marriage. You have no idea who Dan Williams is. He is the bullpen catcher. And I knew that without even having to look it up. How pathetic am I?