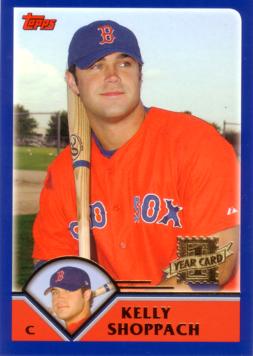 From
http://www.fangraphs.com/blogs/index.php/shoppach-showing-off/

Quick, name the catcher with the most home runs in the American League.
No, not him. Not him either. Give up?
Try Kelly Shoppach. Yea, I know, Kelly Shoppach. Last night he hit his 17th home run of the season, and if the Indians were looking for excuses for why their season hasn't gone as expected, they can't blame the injury to Victor Martinez, as Shoppach is filling his shoes quite nicely.
His home run last night was his 38th extra base hit, using his power to compensate for his strikeout rate that drives down his batting average. Shoppach actually has more XBH than singles (36), and his ISO of .250 puts him in the company of the more famous slugging backstops such as Brian McCann and Geovany Soto.
At 28, Shoppach is something of a late bloomer, but the ability to drive the ball makes up for the rest of his flaws. His command of the strike zone is pretty miserable (he makes contact like Jack Cust and walks like Robinson Cano), but when he makes contact, he makes it count - his batting average on contact is .399.
So, what do the Indians do next year when Martinez returns? It's pretty clear that Shoppach is good enough to play regularly, but neither he nor Martinez would be nearly as valuable playing first base as they are behind the plate. The Indians might be best off shopping one of the two this winter, because while having two good catchers is a nice problem to have, it's still a problem.